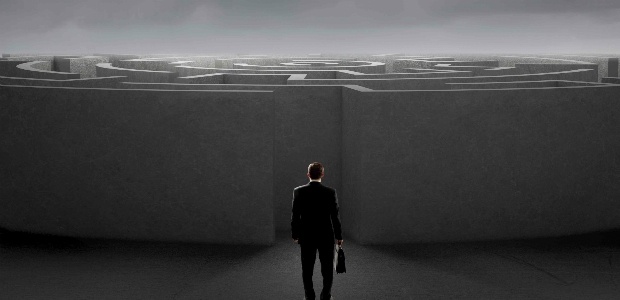 In 2013, Dimensional Research and ZenDesk reported in a survey that 62% of business-to-business and 42% of business-to-consumers purchased more after a positive experience. 95% of respondents having a bad experience said they told someone about it.
Creating consistent and positive experiences for customers can be difficult for a business to achieve. In this article, you will learn how to use the Buyer Experience Lifecycle business model to create a stream of income that generates long-term customers who make multiple repeat purchases and word-of-mouth referrals. You will also gain insight into your customer's experience so you can understand and satisfy them better than anyone else.

What is the Buyer Experience Lifecycle?
The Buyer Experience Lifecycle identifies the matrix of interactions a customer has with a product, and extends from the purchase experience through the end of the product's life. A buyer's experience typically progresses through five stages, and each stage includes six categories of interactions, referred to as "utility levers". The diagram below illustrates this interaction matrix.

*Buyer Experience Lifecycle diagram is based on the similar model found in Blue Ocean Strategy by Kim & Mauborgne
As you can see, the five stages and their definitions are:
Purchase – initial transaction for a good or service
Delivery – process of receiving the promised good or service
Use – experience while possessing the good or service
Supplemental – additional goods or services offered to improve the buyer experience
Disposal – removing or discontinuing the good or service
The six utility levers provide a consistent method to measure effectiveness across each of the five stages. These levers include:
Productivity – Doing something faster, better, or in a different manner
Simplicity – Removing all complexity. Easy enough for anyone to understand
Convenience – Reducing and simplifying additional effort
Risk – The potential loss of value to a customer
Fun & Image – Customer satisfaction and pleasure
Feedback – Reactions and responses from customers
It's important to pay attention to all utility levers in each of the five buyer stages. Focusing on just one or two levers eventually results in fewer customers and missed growth opportunities due to unmet customer needs.
For example, Philips, a technology company, released an all-in-one music, video, game, and teaching device in 1991 called CD-i. It was a new technology product of its time, and was advertised as the "Imagination Machine". However, it had so many different functions that users found it complicated to use. The product also lacked attractive software design. As a result, customers didn't feel a compelling reason to buy the CD-i even though it could perform many different functions.
Philips focused mostly on the buyer stages of Productivity and Image, but significantly overlooked how they could increase Simplicity, Convenience, Risk, and encourage Feedback. This resulted in many negative reviews, and the product was eventually discontinued. The diagram below gives an overview of how the Philips CD-i applies to the Buyer Experience Lifecycle.
While looking at the diagram, it's important to evaluate all the utility levers within each buyer stage. As you can see, there are several empty boxes. These empty spaces indicate where Philips overlooked important opportunities to provide value to customers in the buyer experience. The red text provides examples of how the CD-i failed to offer valuable utility in a certain stage.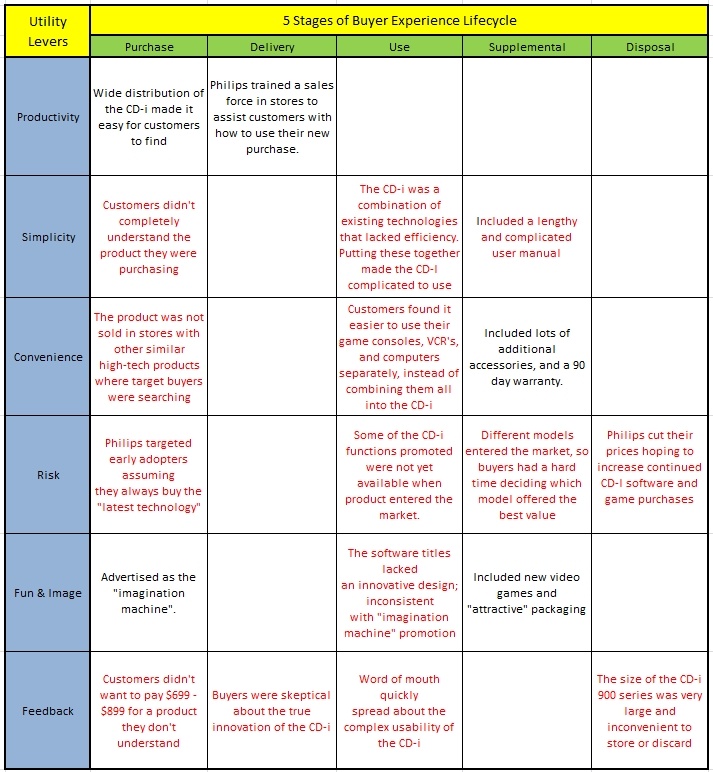 Questions to Ask Yourself Throughout the Buyer Experience Lifecycle
The five stages and utility levers provide a framework to categorize how your clients experience your products and services. Use the questions below to fill out your own buyer lifecycle diagram and assess where you can make improvements.
Look through the eyes of your customers as you read through the questions, and focus only on one product or service at a time. You will discover how you can improve a customer's experience throughout each stage for individual products and services.
First, write down your answers to each of the questions, then fill in the appropriate boxes of the Buyer Experience Lifecycle diagram. Once you are finished, brainstorm ideas on how to fill in gaps or correct weaknesses, along with considering potential barriers. Then use your solutions to update the appropriate spaces of the Buyer Experience Lifecycle diagram.
——————————————————————————————————————————–
Stage 1: Purchase
Productivity: How long does it take customers to understand your offerings and gather information to reach a point-of-purchase?
Simplicity: Do the most uninformed individuals easily understand your product or service? How are you using the same language as potential buyers in your market? What are the most valuable details you're communicating about your product or service?
Convenience: How can you make it easier for customers to navigate your website or store to reach the point-of-purchase? Is your product easy to find and well-distributed? How are customers making a transaction at their greatest convenience?
Risk: Have you identified the customer perceived risks before and during the transaction process? What are they?
Fun & Image: How are you making the purchase process enjoyable? Where can you improve?
Feedback: What do your buyers think about the initial purchase process? Survey them asking about their purchase experience to help you improve this stage.
Stage 2: Delivery
Productivity: How quickly are customers receiving the product or service after the transaction? What immediate confirmation are they given?
Simplicity: Are any of your customers desiring additional assistance or information during the post-purchase process?
Convenience: What channels are you using to maintain contact after a customer makes a purchase? Is it through a website, email, text message, social media, or direct mail? How do your buyers prefer to communicate?
Risk: How can you reassure customers they've made the best choice buying from you?
Fun & Image: How are you representing your brand image and personality now that you have the client's attention?
Feedback: How are you encouraging customers to share about this purchase with others?
Stage 3: Use
Productivity: Does your product deliver on its claims and promises? How does your product or service make the customer's life easier?
Simplicity: How can you make it easier for customers to use your product or service?
Convenience: What is the easiest way for customers to contact you for help? Do clients immediately know where to go with questions? How quick are you to respond to their needs?
Risk: What are the potential defects or problems with using your product or service? How can you prevent these things from happening?
Fun & Image: How can you proactively position the use of your product or service in an attractive way?
Feedback: How can you encourage customers with a positive experience to tell others about you?
Stage 4: Supplemental
Productivity: Are there additional benefits or complimentary services you can offer that improve the usability of your product or service?
Simplicity: Does your additional products or add-on services seamlessly fit with the core offering in a way that increases value to customers?
Convenience: How easily can customers access added benefits or find out more about them?
Risk: Are you offering costly additional services with a low ROI? What can you offer that has high customer value at a low cost to you?
Fun & Image: Are your added benefits or complimentary services promoted in a manner that is pleasurable and consistent with your brand image?
Feedback: What do clients think about your supplemental offerings? Don't be afraid to ask them.
Stage 5: Disposal
Productivity: What is the lifespan of your product or service? How can you increase its longevity, encourage repurchase, or up-sell and cross-sell new products?
Simplicity: Are customers aware of the lifespan of the product or an expiring warranty? How can you help prepare and guide them for their next purchase?
Convenience: How can you make it easier for the buyer to repurchase another product or service from you?
Risk: Do customers feel they received their money's worth from the product or service?
Fun & Image: Is the option of repurchase appealing? How can you communicate the need for repurchase in a positive and appealing way?
Feedback: What do clients say about you after all 5 stages? How are you handling and monitoring negative buyer experiences at the end of this lifecycle?
Keep in mind that enhancing your customer's experience should be an ongoing process, so you should reassess the Buyer Experience Lifecycle on a regular basis. As you continue to do this, you will create sustained customer loyalty and overall business growth. In the words of Jeff Bezos, the CEO of Amazon, "If you build a great experience, customers tell each other about it. Word of mouth is very powerful."
References:
Kim, W. Chan., and Renée Mauborgne. Blue Ocean Strategy: How to Create Uncontested Market Space and Make the Competition Irrelevant. Boston, MA: Harvard Business School, 2005. Print.
"Online Extra: Jeff Bezos on Word-of-Mouth Power." Bloomberg Business Week. Bloomberg, 01 Aug. 2004. Web. 14 May 2014.