Millennials. A term that can strike up heated conversation between just about anyone.
Whether you have an extreme distaste for the generation or are completely indifferent, it really doesn't matter. There's one cold, hard fact that businesses everywhere have to face— millennials are the future. The very near future at that.
Let's walk through this lesson together.
Who are Millennials?


Millennials, also known as Generation Y, were born sometime between the early 1980s and the mid-to-late 90s.
According to PEW research, in 2016 there were an estimated 79.8 million millennials in the U.S. alone; they now outnumber the baby boomers by about 5 million!
As the first generation to grow up in a digital age, their lifestyles and habits have been drastically affected by technology. They have been deemed the most educated and culturally diverse group as well as liberal minded, hard to please in the workplace, and very privy to social issues.
Why Should You Cater to Millennials' Consumer Behavior?
By 2020, Generation Y will make up half of the work force; that means millennials are about to have an insane amount of buying power.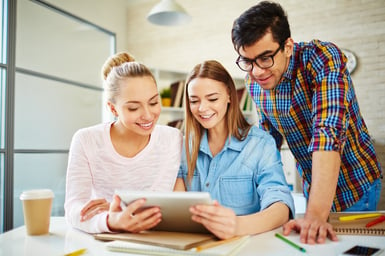 Another huge factor to consider is that millennials aren't teenagers anymore. Don't get stuck with that picture of a bratty little child in your head; in reality, millennials are in the time of their lives where they are settling down, getting married, having children, and seeking security.
Whether or not you've been putting this generation on the backburner, if you want to be successful, you have to start figuring out how to make these individuals a priority to your business.
What Are the Challenges of Connecting with Millennials?
One of the biggest challenges facing independent agencies today is the competition from highly-commercialized internet agencies.
These companies have been marketing to millennials from the get go. Because of that, they have a strong hold on the market.
The average insurance agent is a white male around the age of 45. This creates a bit of a disconnect; what would you have in common with a 25 year old female? This is a hurdle agents and agencies have to overcome quickly.
There's nothing wrong with sticking to your old school ways. If they've worked for you in the past, then keep doing what you're doing. But you also have to find new ways to adapt and relate to this younger generation.
How Do You Attract Their Business?
Connect on Social Media
You've probably heard it time and time again, but when it comes to millennials (and just about everyone else now a days), social media is vital.
This is the generation that watched the internet and social media come to life, so they hold it in high regard and consult it for virtually everything. A great first step for you is to create accounts on multiple social media platforms, such as Facebook, Twitter, or Pinterest, and connect with these people on a daily basis. By leveraging the information that is readily available on social media networks you can:
reply to customer questions and concerns in real time
publicize new products or services
share company happenings to increase transparency
pose questions on your page to encourage customer interaction
Here are some more tips for using social media to communicate with your customers.
Be Trustworthy
On that note, you also have to be careful how you come across to this group. Trustworthiness is one of the single most important factors that millennials take into consideration. They need to know that you have their best interest at heart before they will even think about giving you their business.
The best way to earn their trust is to be sincere and go out of your way to make them feel respected and cared for as a customer. You can do this by:
addressing any questions or concerns promptly and honestly
consistently following up both before and after a purchase is made, either by phone or e-mail
getting to know them on a personal level
Check out more ways to go above and beyond for your clients.
Share Your Philanthropy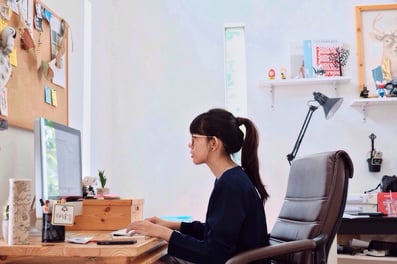 According to millennialmarketing.com, "brands that stand for more than their bottom line receive greater millennial brand love." If you or your agency is involved in the community or supports a cause, let millennials know! They very much care about making the world a better place and will reward you with their business.
Focus on the User Experience
As well as being present on social media, make sure you have a dynamic website that is user friendly. To determine if your site is responsive, ask yourself a few simple questions:
Can anyone quickly and easily find the information they need?
Is it appealing to the eye?
Does the website layout work on smartphones and tablets as well as desktops and laptops?
Have a Strong Digital Presence
You absolutely will not get anywhere with millennials unless you have a strong digital presence. Your website not only has to be engaging but it has to show up in search results. Millennials are more likely to trust companies that rank on the first page for their insurance related queries. Being active on social media is important, but you have to couple it with an overall internet authority.

What Types of Insurance Do Millennials Need?
As far as insurance goes, millennials are at slightly different stages in their lives, so it's hard to nail down exactly what they may want or need. However, there are three different kinds of insurance that will appeal to many individuals in this group.
Renter's insurance – The number of millennials who own their own homes is low. Renting is by far a more popular option, so this would be a good product to suggest.


Health insurance –Millennials are extremely health conscious and care very much about their well-being. Now more than ever they are making wellness an active, daily pursuit. With health on the forefront of their minds, suggesting this type of coverage could be beneficial to all involved.
Travel medical insurance – The travel industry is booming right now and millennials are a huge factor contributing to that trend. This is a fantastic product to be able to offer. Travel medical insurance is also easy to upsell and cross sell.
So, we've discussed this elusive generation and why it's imperative to start prioritizing their needs. We've talked about some ways to connect with them and some of the many challenges you're going to face.
The only thing left to do now is to review your current business tactics and find areas where you can improve and implement new ideas to grow your business exponentially.
---
*As earlier mentioned in this blog, travel medical insurance is a great product to have to offer millennials. WorldTrips offers a competitive commission for the sale of our travel medical policies and getting contracted is simple.*
KHE2FFFYH6SP-152-884 WorldTrips is a service company and a member of the Tokio Marine HCC group of companies. WorldTrips' Atlas Journey, Atlas Cruiser, and Atlas On-The-Go trip protection insurance products are underwritten by Tokio Marine HCC U.S. Specialty Insurance Company (USSIC). USSIC is a Texas-domiciled insurance company operating on an admitted basis throughout the United States. WorldTrips' Atlas Travel Series and StudentSecure international travel medical insurance products are underwritten by Lloyd's. WorldTrips has authority to enter into contracts of insurance on behalf of the Lloyd's underwriting members of Lloyd's Syndicate 4141, which is managed by HCC Underwriting Agency, Ltd.