"Much good work is lost for the lack of a little more." -Edward H. Harriman
A few years back my brother bought a Harley from a dealership in St. Louis.
There was nothing special about the process, he shopped around, haggled price, filled out the paperwork, and left happy with a bike.
A couple weeks later though, he received a handwritten thank you note in the mail from his salesman. Then a few months later he received a birthday card from him too. Subsequently, the salesman sent a get well card after he heard my brother wrecked his bike.
Since then, my brother has purchased three more bikes from that same salesman, and won't ever go to anyone else.
Why?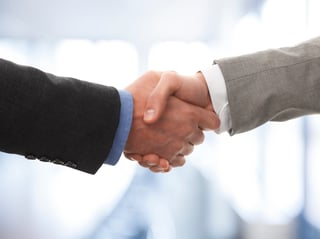 Because there's power in the follow up.
There's hundreds of Harley dealerships my brother could have gone to, and maybe even gotten better deals, but because this one employee took a few minutes out of his day to go the extra mile, he has a lifetime, loyal customer.
This concept is something I feel strongly about, and you should, too.
In an age of vast competition where the buyer has all the power, you have to find ways to connect on a deeper level.
This means you should:
Go out of your way to make your customers feel like a priority.

You have to make them feel like they would never be treated as well anywhere else so that they WANT to keep coming back to you to fulfill their insurance needs.
Lucky for you, a whitepaper from the Local Search Association revealed that 65% of consumers prefer to buy insurance from a local agent rather than directly through the company that sells the products.
This added advantage stems from the fact that people crave human interaction and the feeling of being taken care of.
You've heard it a million times; customer retention is cheaper and more efficient than customer acquisition.
Solid, personal follow-ups can be a huge factor in helping with preservation of current clients.

You know how people always say, "keep dating your significant other even after you're married"? The same goes for your customers. Keep treating them like an unclosed sale, even if they've already purchased a policy from you.
If someone travels outside of the country once, it's pretty rational to assume they will do so again. Your goal is to stay fresh and positive in their mind so that when the time comes that they need a new policy, you're the only option they consider.
Following up with an e-mail is an important, yet expected action. Beef up your correspondence by creating a meaningful exchange; take this chance to ask specific questions about your client's trip or inquire about their lifestyle.
Use the information they give you to:
Make custom product recommendations
Educate
Relate a certain detail to your own life
Getting to know the buyer on a more personal level not only fosters a strong relationship, but will lead you to more ways you can suggest a product that would benefit them.
With the implicit and explicit information that you extract from your follow-ups, you will learn the hidden needs and characteristics of your clients so that you can optimize your selling method.
In addition to an e-mail you can send:
Birthday and anniversary cards
Thank you notes
Get well wishes
Holiday Cards
If you have a large client list you may feel like this isn't a feasible option for you, but I promise the reward will be worth the effort.
There are various methods you can employ to aid in this undertaking such as:
Staying organized
Prioritize
Use automation where possible
Take notes to refer back to
A 2011 survey conducted by Accenture found that:
"Two respondents out of ten (21 percent) are considering switching to a new insurance provider the next time they purchase or renew their policy. Younger respondents are more willing to switch providers, with almost a third (31 percent) of those aged 18 to 24 saying they will not purchase or renew their policy with their current provider, or will look around."
This data indicates that you have a fantastic opportunity to prove to consumers why they should choose you exclusively. Take the initiative and make that extra effort to follow up and build a firm foundation for your business.
In a market as saturated as insurance, people have, what seems like, unlimited options for making their purchases. Engaging in these small, yet substantial gestures will set you up to be a notable and trustworthy preference in the consumer's mind.
KHE2FFFYH6SP-152-753 WorldTrips is a service company and a member of the Tokio Marine HCC group of companies. WorldTrips' Atlas Journey, Atlas Cruiser, and Atlas On-The-Go trip protection insurance products are underwritten by Tokio Marine HCC U.S. Specialty Insurance Company (USSIC). USSIC is a Texas-domiciled insurance company operating on an admitted basis throughout the United States. WorldTrips' Atlas Travel Series and StudentSecure international travel medical insurance products are underwritten by Lloyd's. WorldTrips has authority to enter into contracts of insurance on behalf of the Lloyd's underwriting members of Lloyd's Syndicate 4141, which is managed by HCC Underwriting Agency, Ltd.